Nairobi drainage unclogging enters homestreach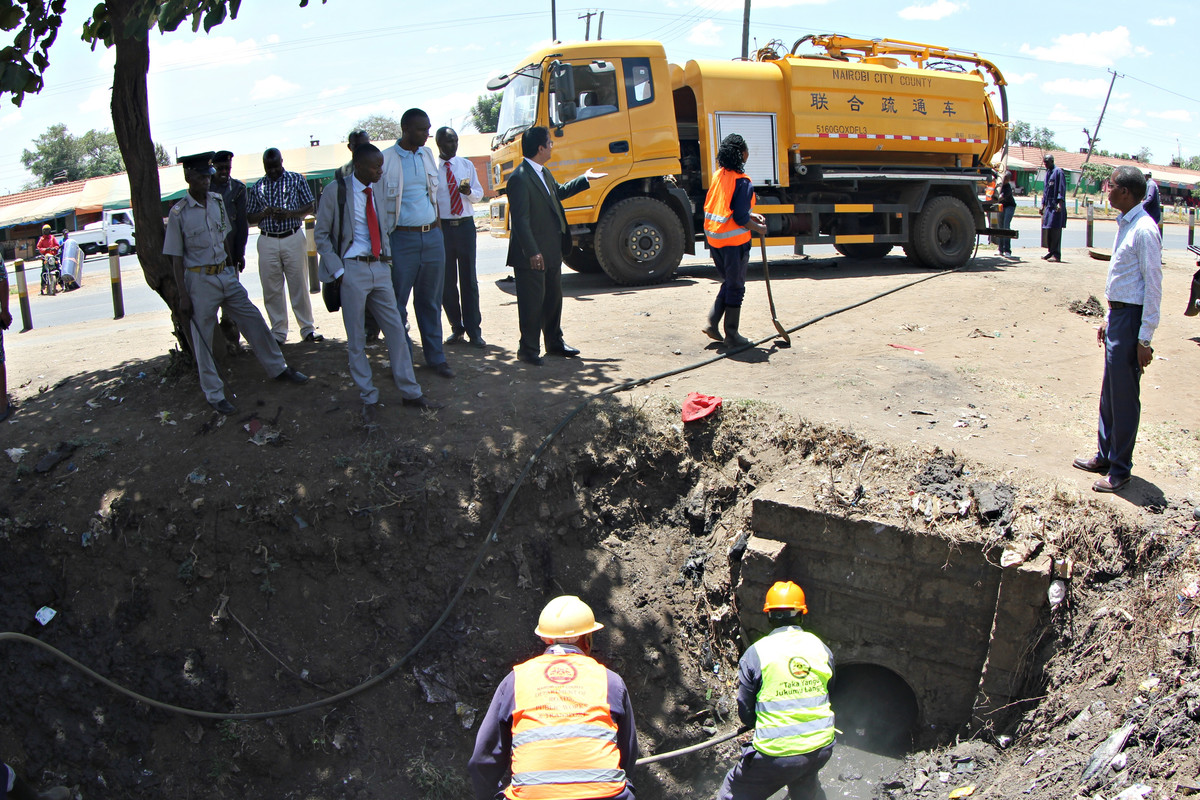 PHOTO / County officials unclogging the drainage system using the flashing unit at Mbotela area in Nairobi. Sonko has warned that Environment polluters in the City will face stern action to avert cases of clogging of the drainage systems. Looking on in spectacles is county executive member for environment Hitam Majevdia
NAIROBI, 16 MARCH,2019. The Nairobi County Government today exuded confidence that the ongoing unclogging of drainage on flood prone areas in the capital will be completed in a week as they rush to beat the start of the wet season.
According to the county executive member for environment Hitam Majevdia, 70 percent of hotspots have been unclogged and the county officials are working round the clock to finish with the works before the onset of rainfall.
Speaking during a tour of sites of work at various sub-counties, Majevdia "We have extended working hours since last week and we have so far done up to 70 percent. We are clearing one area and moving to the next conclusively,"
"The challenge is that the public is dumping garbage again into the trenches after we have cleared but we shall not back down and we are promising Nairobians that there will be no floods at any part of the city," he added.
Majevdia delivered a stern warning from Governor Mike Sonko that anyone found polluting the environment in the City will face stern action.
"To avert cases of clogging of the drainage systems, we are working with other government agencies like the national Environmental Management Authority (NEMA) and anyone caught dumping at unauthorized areas will face stern action," He said.
Devolution county executive Veska Kangogo urged the public to responsibly dispose waste adding that the exercise will continue even after the rainy season to see that the problem is forever solved.
"Engineers from the departments of devolution, roads and environment will continue with the work and we seek to have the support of the public so that we can all have a good environment," Kangogo said.
The team from city hall visited Embakasi West sub county at Umoja two and Umoja one areas before heading to Mbotela in Makadara sub county where the two storm water drain flushing machines that were acquired by the county from the Ministry of Transport and Urban Development in a bid to help solve drainage problems in the capital city were at work.
The units that are estimated at a cost of Sh25 million each has the ability to remove waste materials from the drainage lines leaving it clear for free flow of water.
---
---