Mwendwa joins Team Blue Nairobi county candidates in votes consolidation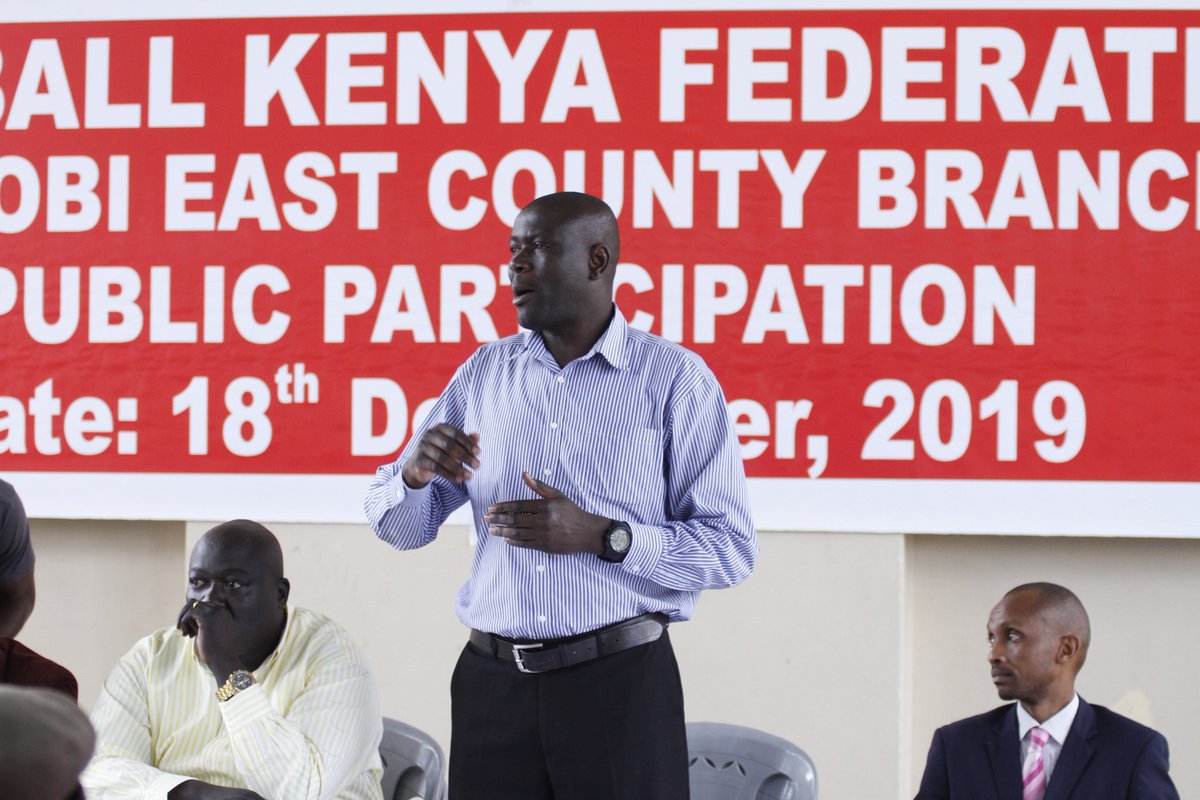 Football Kenya Federation Nairobi East Branch chairmanship aspirant George Onyango addresses delegated at a past meeting / Photo File
NAIROBI 18 September, 2020: Football Kenya Federation (FKF) President Nick Mwendwa today joined Nairobi County aspirants allied to his "Team Blue" camp a last minute vote hunt ahead of FKF County elections tomorrow scheduled for Saturday, September 18, 2020.

Accompanied by the immediate former Nairobi East Chairman Michael Ouma Majua, who is vying for the Nairobi NEC position, Mwendwa joined Nairobi West and East branch chairmanship aspirants candidates Caleb Malweyi and George Ochieng Onyango in a D-day consolidation of votes ahead of the county elect polls that are set to be conducted in 21 out of 48 counties tomorrow.
In attendance at the meeting were delegates representing clubs from Nairobi East and Nairobi West County branches.

Malweyi exuded confidence that he will emerge victorious in the polls. "I am well prepared for this exercise. We faced many challenges along te way with people who have no interest of football at heart ensuring that our victory is nullifiered by the courts but our team has stuck together and we are confident of winning," Malweyi said.
Onyango said that he is already focussing on the development of a plan to develop football in Nairobi confident of victory at the ballot tomorrow. "Out of the 98 delegates eligible to vote, 70 are in support of my candidature. I am confident that I have already won this," He said.
Ouma said that the team blue top brass went down to the campaign meeting to offer support to the county officials." The chairmen who will be elected tomorrow will vote at the national elections so we came here to offer them support and see how best we can help them win," He said.
Team Blue Lineups, featuring George Ochieng (Chairperson), Elijah Seka (Running mate), Dixon Doyo (Secretary), Michael Ngatia (Treasurer), Jackline Juma (Women Rep) and Moses Nyangila (Youth Rep) from Nairobi East and Caleb Malweyi (Chairperson), Alfred Mutua Muli (Running mate), Charles Kaindi (Secretary), Josephat Karuri (Treasurer), Maureen Obonyo (Women Rep) and Hannington Khayati (Youth Rep) from Nairobi West were also present to woo support ahead of the county polls.
Polling stations will open at 9:00 am on Saturday voting will be conducted by the FKF electoral board. The exercise will close immediately voting ends. The candidate elected chairman at the county level will be the chief delegate at the national level, on October 17, 2020.

---
---