Posta Rangers, AFC Leopards, Sofapaka triumph into Betway Cup round of 32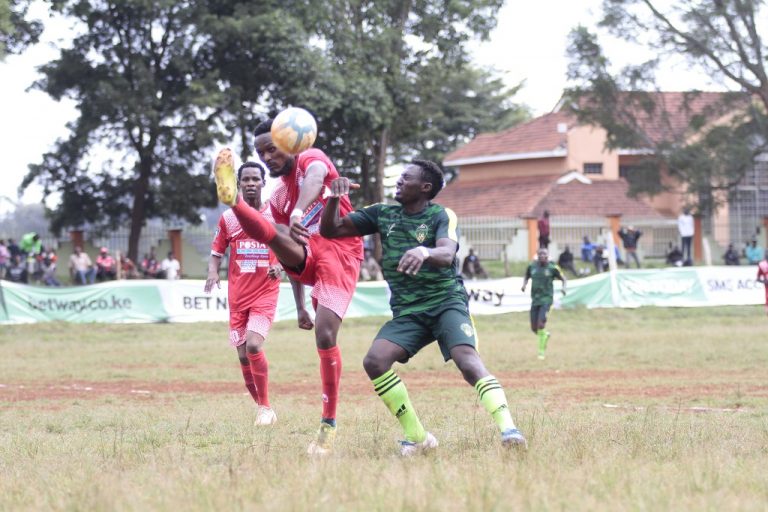 Posta Rangers has pulled through to the FKF Betway Cup round of 32 after beating Rware FC 3-0 on Sunday, February 14, 2021, at the Ruringu Stadium.
Dennis Oalo opened the scores for Posta Rangers in the 17th minute. Several attempts by home-side Rware to equalize the goal in the first half fell naught, closing off the scores at 1-0
The second half was in favor of Posta Rangers with Ezekiel Okare netting a goal in the 69th minute before Jackson Dwang sealed the win with a goal in the 82nd minute.
AFC Leopards, Sofapaka, Bidco, and Sigalagala TTI FC also booked places in the tournament's round of 32.
Round of 64 Results
Saturday, February 13, 2021
1. KSG Ogopa vs Dimba Patriots (GEMS Cambridge, 1 pm)
2. Marafiki *2-0 JKUAT (Kinunga Stadium Nyeri, 3 pm)
3. Mwatate United vs Twyford (Wundanyi Stadium, 1 pm)
5. Flamingo *0-2 Kariobangi Sharks (Finlays Grounds Naivasha, 3 pm)
6. Uprising 2(1) vs 2 (3pen) Progressive (Camp Toyoyo, 1 pm)
7. Tandaza vs MCF (Camp Toyoyo, 3.15 pm)
8. FC Shells (2) 2-2(4)Fortune Sacco (Mbaraki Grounds, 3 pm)
9. Mutomo Tigers 1-4 Nairobi City Stars (Kitui Stadium, 2 pm)
10. Transfoc vs Migori Youth (Kenyatta Stadium, 1 pm)
11. Elim 0-5 Ulinzi Stars (Kenyatta Stadium Kitale, 3.15)
12. Kajiado North 3-2 Nkanas (GEMS Cambridge, 3 pm)
13. Bungoma Superstars 1(5)-1(4) Zetech Titans (Sudi Stadium Bungoma, 1 pm)
14. Mihuu United 0-9 Tusker (Sudi Stadium Bungoma, 3.15 pm)
15. Vihiga Sportiff 1-2 Nation (Mumboha Grounds Vihiga (1 pm)
16. Luanda Villa 1-0 GDC (Mumboha Grounds Vihiga, 3.15 pm)
17. Vegpro 2-0 SS Assad (Longonot Horticulture, 3 pm)
18. NYSA 2-0 Machakos United (Nakuru Athletic Club, 3 pm)
19. Alphose 1-2 Administration Police (St. Sebastian Park, 1 pm)
20. Kiandege Jets 1-3 KCB (Gusii Stadium, 3.15 pm)
Sunday, February 14, 2021
1. Sigalagala TTI 7-2 Dero (Sigalagala Grounds, 3 pm)
2. Rware 0-3 Posta Rangers (Ruringu Stadium, 3 pm)
3. Black Diamond vs CUSCO (Sawagongo Grounds, 3 pm)
4. Muranga Seal 2(3)-2(4) Bandari (St. Sebastian Park, 3.15 pm)
5. MMUST (5) 1-1 (6) Bidco United (Approved School, 3 pm)
6. Nyabururu Sportiff 0-4 Keroka TTI (Gusii Stadium, 1 pm)
7. Twomoc vs Naivas (Nakuru Athletic Club, 1 pm)
8. Nax Fussball 0-2 Mara Sugar (Nakuru Athletic Club, 3.15 pm)
9. Kobare vs Egerton (Nyathi Complex, 3 pm)
10. Blessings 0-3 Equity (Kenyatta Stadium Kitale, 1 pm)
11. Kitale All-Stars 0-1 Sofapaka (Kenyatta Stadium Kitale, 3.15 pm)
12. Tiki 0-6 AFC Leopards (Wundanyi Stadium, 3.15 pm)
To Be Rescheduled
1. Congo Boys vs Gor Mahia (Mbaraki Sports Club, 3 pm)
---
---