Put your house in order-Wario tells FKF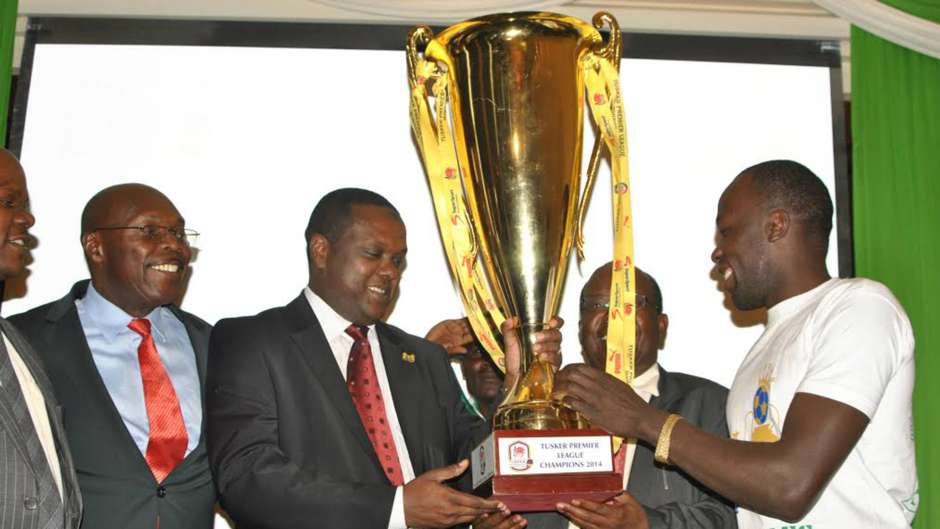 Caption. Gor Mahia Captain Jerim Onyango hands the KPL Trophy to sports Cabinet secretaryDr. Hassan Wario.
By Joseph Mwangi
Sports cabinet secretary Dr. Hassan Wario has called on Football Kenya Federation to put their house in order if Kenya is to have any development in football at the continental stage.
Speaking during a Luncheon hosted by the National football governing body FKF for 2014 league champions Gor Mahia on Wednesday, Wario said that the federation should bury their differences with Kenya's top flight league management firm KPL that have degenerated into a public farce in the past month, including the latest war front where FKF is fronting an 18-team competition as opposed to the current 16.
"We must aspire to take football to the next level because it's one of the major pillars of our development in this country. We get there through the professionalising the league but Mr President; please sort the differences because we want to move forward and make the league grow.
"We need to listen to one another and iron out our differences. I have been told by various people let's do something more in football so that we can bring in money. Give us the reason to hope that we will clean up our business and football will start attracting mega money as it does in other parts of the world," Wario said to Nyamweya.
Kenya has already presented her bid to host the 2017 continental showpiece and the cabinet secretary welcomed the move though challenging FKF to focus on ensuring national team Harambee Stars regains its past glory.
"We need to focus on the team to find the solution because it's not glamorous taking about other counters coming here yet we don't know our chances. What has been ailing us? The opportunities we hold to turn around the team in the next two years," the minister added.
During the Luncheon, Gor Mahia chairman Ambrose Rachier said "No club has won the trophy 14 times so it's very significant that we are the best in the country but we are not yet done, next we are going for it and make sure history repeats itself."
"We have offered our head coach Frank Nuttall a new one-year contract and I can say the deal is 80 percent sealed," the club boss explained.
The Ministry of Sports awarded them Sh300, 000 while Nyamweya added Sh100, 000.
"Gor deserved to win it because it was a very difficult league, they were not sure if it's them or Sofapaka. We expect a very exciting one next season," Nyamweya who drummed up support for his KPL expansion move that has been met with resistance by KPL.
---
---