High hurdler Saruni of Kenya disqualified as rivalry with Ethiopia continues in 800m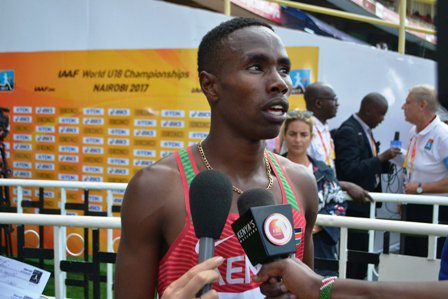 Kenya team captain David Saruni faced a championship disappointment after he was disqualified from the 400m hurdles event moments after winning his heat.
Saruni finished his heat ahead of Alison Dos Santos of Brazil only to be axed for lane infringement after judges ruled that he violated IAAF Rule 163.3 (a) which states athletes should keep within their respective lanes.
Kenya's hope for a medal now lies with Moitalel Mpoke who came in second in the first heat after he clocked 52:40 seconds behind Jamaican Rovane Williams who returned a time of 51:94 seconds.
In the 800 meters boys' category, Jonathan Toroitich and Noah Kiprono booked their places in the finals scheduled for Saturday. Toroitich finished second in heat two in a time of 1:50.03 behind Ethiopian Tolesa Bodena who clocked 1:49:37.
Kiprono qualified as the second fastest looser after clocking 1:51.72 to finish in fourth place.
Tolesa and Kiprono top the list of the seasons best results this year after both recorded sub 1:47 minute performances during respective national trials for the championships in Addis Ababa and Nairobi
---
---
High hurdler Saruni of Kenya disqualified as rivalry with Ethiopia continues in 800m
Write a comment below