Owalo takes over from Mucheru with promise to digitize economy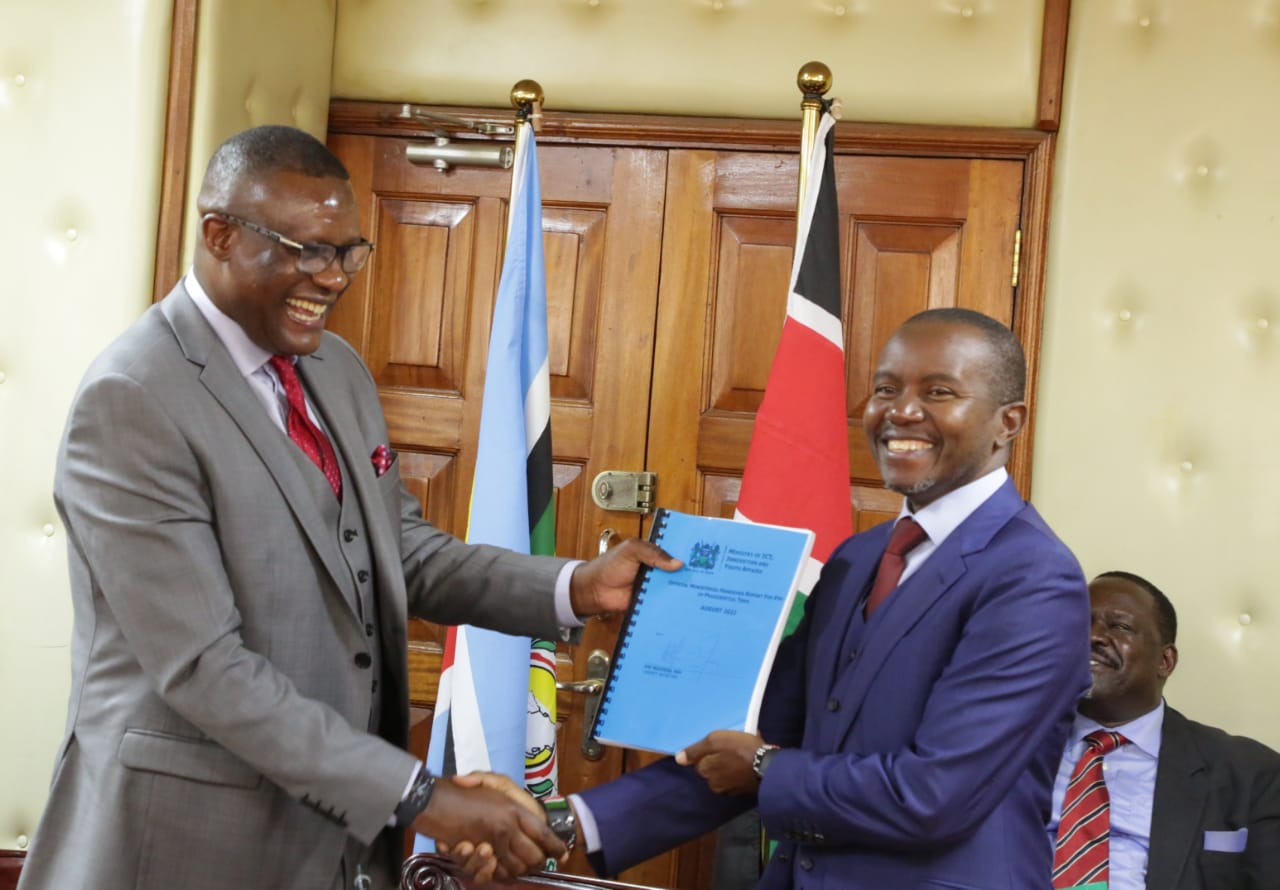 Nairobi 28th October, 2022: Information, Communication, Technology and Digital Economy (MOICT–DE) Cabinet Secretary Eliud Owalo today took over office from the former Cabinet Secretary Joe Mucheru with a promise to embark on a journey to transform Kenya, leveraging on technology and telecommunication capabilities.
Owalo said that his ministry will work to make Kenya an empowered digital society, with high standards of living for the people, in line with the mandate of the ministry.
Speaking during the handing over ceremony, Owalo said that he is looking forward to leading in pushing to the next level, the visionary agenda of making Kenya a prosperous, empowered and digital society.
"I thank my predecessor for his service to the nation. My work is well cut out. I've hit the ground running and I eagerly look forward to working in concert with relevant industry stakeholders to build an empowered digitised Kenyan society & attendant goals,"Owalo said.
"Let me thank the staff in ministry, and those from the SAGAs within this ministry, for your outstanding service through this great Ministry and its semi-autonomous agencies. You have worked well. You have given this Ministry a good name out there. I look forward to building on this good reputation to accelerate the tempo of our effort and output to the next level. 8. I am arriving firmly focused on an empowered digital Kenyan society. I have come to lead in facilitating Kenya's economic transformation by leveraging upon ICT for competitiveness and sustainable human development. I invite all of you to join hands with me in the viable pursuit of this agenda, for our people and our country," Owalo noted.
"As we all know, there is a lot of work of work to be done. We are all going to be measured based on our tangible and visible performance. Kenyans are watching and waiting. I have no doubt that we are all more than ready for this. I will support each one of you with all my capacity, as we pull together on this very important mission. The Kenya Kwanza dream for our country through the role of this Ministry is a noble and valid dream. It is a dream about a paperless society, driven by modern information and communication technology. It is about a modern society that leverages on technology for job creation and generation of wealth," he added.
Owalo realized that he has been charged with the responsibility to play the lead role and is expected to realize the technological dream for the ministry and to make it realizable for the rest of the sectors in the country, by providing affordable and efficient tools, systems and an enabling regulatory environment.
"Together, we can steer the Kenyan nation to achieve this noble dream. His Excellency the President has promised Kenyans that he will pursue a bottom-up transformational agenda. Through the digital, information and communication component we in this ministry are expected to be the engine," He said.
The CS said that the ministry is keen to keen to bring the silicon savannah dream to life. The completion of the Konza Technopolis project is a priority and Owalo said that Konza will bring together various actors in the industry, academic institutions and other innovators to co-invest in emerging technologies, to create high-quality jobs.
He also reiterated that the ministry will strengthen institutions that have been rather slow, while others have been clearly laid back, under this ministry. The Kenya Broadcasting Corporation (KBC), the Kenya News Agency (KNA), Telcom and the Postal Corporation (Posta) are among the targeted institution which will see a revamp.
---
---