Namwamba takes over sports ministry, pledge to solve football mess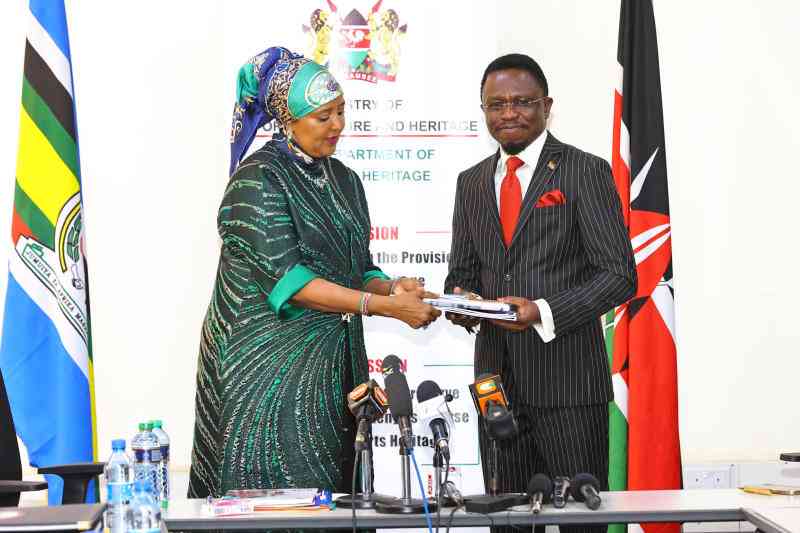 There is a new sheriff in town. New Sports Cabinet Secretary Ababu Namwamba has taken over the reins at the Ministry from former CS Amb. Amina Mohammed with the promise to solve the impasse that is there between Kenya and World Football governing body FIFA.
While assuming office this afternoon, following yesterday's swearing in, Namwamba said that he has lined up fighting football standoff and doping vice in an attempt to revive the dying Kenyan sports.
Namwamba, who is making a return to the ministry he served in 2012, said his mission is to clean the doping menace currently tainting Athletics Kenya's image and restore Kenya's football sector currently in limbo by following the rule of law.
Kenya has been under Fifa suspension since February after outgoing CS Amina Mohamed disbanded the Football Kenya Federation in November last year.
"We want to solve the current standoff between FKF and FIFA as soon as possible. I have been well briefed by outgoing CS Amina and we want to look at the proposals put forward herein to solve this matter taking into account President Ruto's call to fidelity to rule of law," said Namwamba.
Namwamba put those involved in doping on notice cautioning that their days are numbered as he promised a clean-out. "As a new government, we want to clean this doping vice currently tainting our image as an athletics powerhouse. This is a warning to anyone including doctors prescribing these drugs, your days are numbered."
"If you are part of this syndicate providing banned substance to our athletes, we are after you because we are working closely with all stakeholders to make it extremely expensive to dope."
"We are going to elevate banned substance to the calibre of hard drugs so that if you are caught, we treat you as a trafficker of heroin, cocaine and other hard drugs," said Namwamba.
"I feel honoured to serve in this ministry and I would like to thank His Ex the president for the appointment. Brand Kenya globally owes it shine from sports people and musicians. Kenyans owe our sportsmen so much because our brand depends on them. As I assume office, there are certain targets that Kenyans should know. We want to settle the issue of FKF and FIFA. I will pay great attention to the recommendations given as I seek immediate solution. I will do it today as I promised during my vetting," Namwamba said.
---
---