President Ruto, Ngatia encourage MSMEs in digitisation move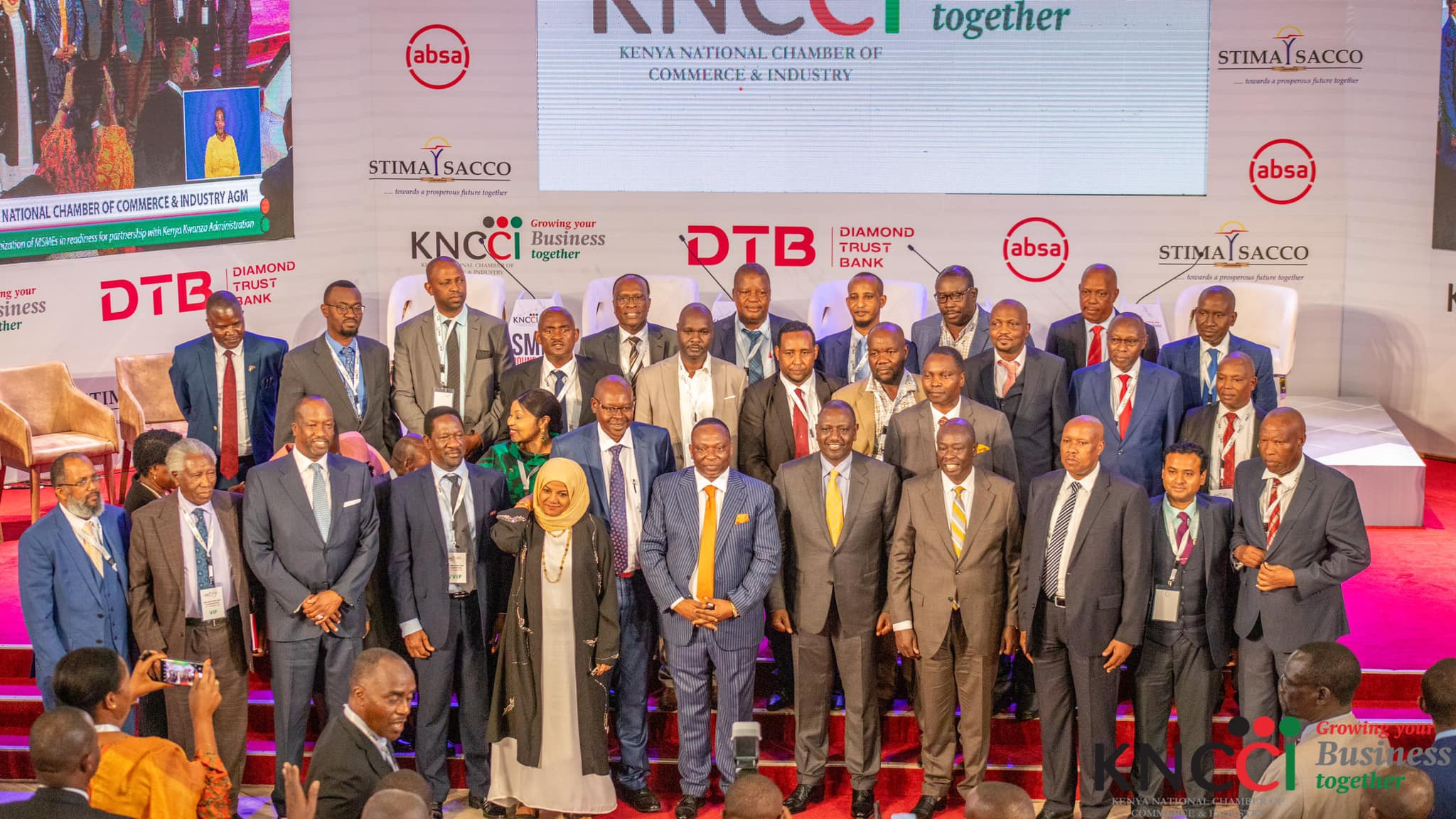 President William Ruto and the Kenya National Chamber of Commerce and Industry (KNCCI) president Richard Ngatia during the KNCCI Micro, Small and Medium Enterprises round-table meeting
NAIROBI, 10th November, 2022: President William Ruto has today said that the Government will digitize its processes to enhance service delivery.
Speaking today during the Kenya National Chamber of Commerce and Industry (KNCCI) Micro, Small and Medium Enterprises round-table meeting, the President who was hosted to the meeting by the Kenya National Chamber of Commerce and Industry President Richard Ngatia said that the move will save businesses time and costs.
"We must clear more pathways and generate solutions that enable enterprises to work faster and do more. Small businesses have the capacity to move our economy forward, we must create an environment for them to thrive," President Ruto said.
President Ruto also said the government was formulating a policy framework for the creative economy to protect young people and build their capacity to earn livelihoods from their talents.
He added that export documents and business information will also be digitised and consolidated in an integrated portal for easier access by small businesses.
Ngatia, on his part, emphasized on the key role of the chamber in positioning MSMEs in readiness for trade opportunities both locally and internationally.
"In the wake of the COVID-19 pandemic in 2020, KNCCI through a partnership with Mastercard Foundation provided targeted support to informal, microenterprises that were particularly hard hit by the pandemic. 18,000 KNCCI members, majority women and youth entrepreneurs received Ksh. 535 million collateral and interest free microloans as well as digitally delivered training to sustain their businesses during this difficult period," Ngatia said.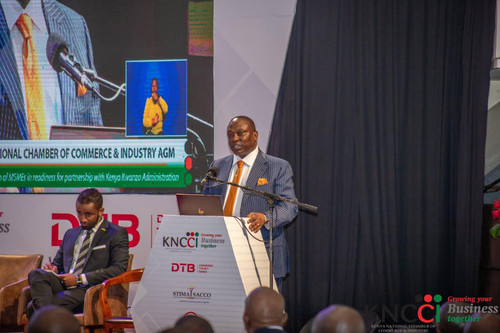 Kenya National Chamber of Commerce and Industry (KNCCI) president Richard Ngatia addresses the Micro, Small and Medium Enterprises round-table meeting
"KNCCI is working closely with partners including Trade Mark East Africa, International Chamber of Commerce, GIZ and financial institutions to sustain the support for MSMEs.
The MSME roundtable accorded entrepreneurs an opportunity to share their experiences and propose recommendations for greater integration of MSMEs that will see small and medium businesses optimize their economic potential," Ngatia added.
KNCCI hosted the consultative MSMEs roundtable themed, "Self Organisation of MSMEs for Partnership with the Kenya Kwanza Administration" ahead of the 2022 Annual general Meeting.
During the meeting, President Ruto, who was the Chief Guest was officially installed as the Chamber Patron.
The President was accompanied by the Deputy President Rigathi Gachagua and Cabinet Secretary for Trade, Industry and Investment Moses Kuria among key government leaders. The meeting convened more than 550 MSMEs drawn from the 47 counties of Kenya, and also garnered representation from Embassies, development actors and key corporate players.
The President gave renewed hope to MSMEs and youth-led businesses as he committed to enact major reforms in the digital and creative sectors which are key sectors for job creation for youth and MSMEs.
To close the digital divide, the government will prioritize pathways to fast-growing technology jobs and develop a policy framework to protect and support youth in the creative economy.
Other trade reforms will include automation of export documents, reduction of tariffs on digital products to promote e-commerce and MSME-friendly consumer protection and intellectual property frameworks. In addition, MSMEs will be supported to participate in supply and value chains through establishment of processing plants and common shared facilities.
---
---