KNCCI President Ngatia leads series of trade talks
Kenya National Chamber of Commerce and Industry (KNCCI) President Richard Ngatia with Dr. Kennedy Nyakomitta and Ms.Joan Keke from the Diamond Trust Bank
The Kenya National Chamber of Commerce and Industry (KNCCI) President Richard Ngatia has continued with his efforts to bolster the trade environment with a series of meetings with different stakeholders.
Yesterday, led Ngatia held talks with the senior leadership from Diamond Trust Bank (DTB) who paid him a courtesy call even as the Chamber president continues with his efforts to ensure the trade environment in Kenya has been propelled.
Ngatia hosted Dr. Kennedy Nyakomitta, the Diamond Trust Bank Director of Sales and Ms.Joan Keke who is the Bank's Business Development and Asset Finance Manager.
The visit follows the recent event where DTB hosted a delegation that travelled to Kinshasa, DRC for a Pre-briefing breakfast session.
The deliberations centered on areas of collaboration and partnership between the KNCCI and DTB Group Bank that will include among others Investor Inbound missions, Special Tailored Programs that will target MSME, SME, and Women as well as the area of Sponsorship of Signature Events and Business Networking Forums.
The key sectors which were identified for collaboration include the health sector infrastructure, equipment, education, agribusiness including manufacturing, Processing, farmer solutions, and value and ICT and technology.
Working teams will be created to support the implementation of activities to ensure the realization of benefits to entrepreneurs countrywide.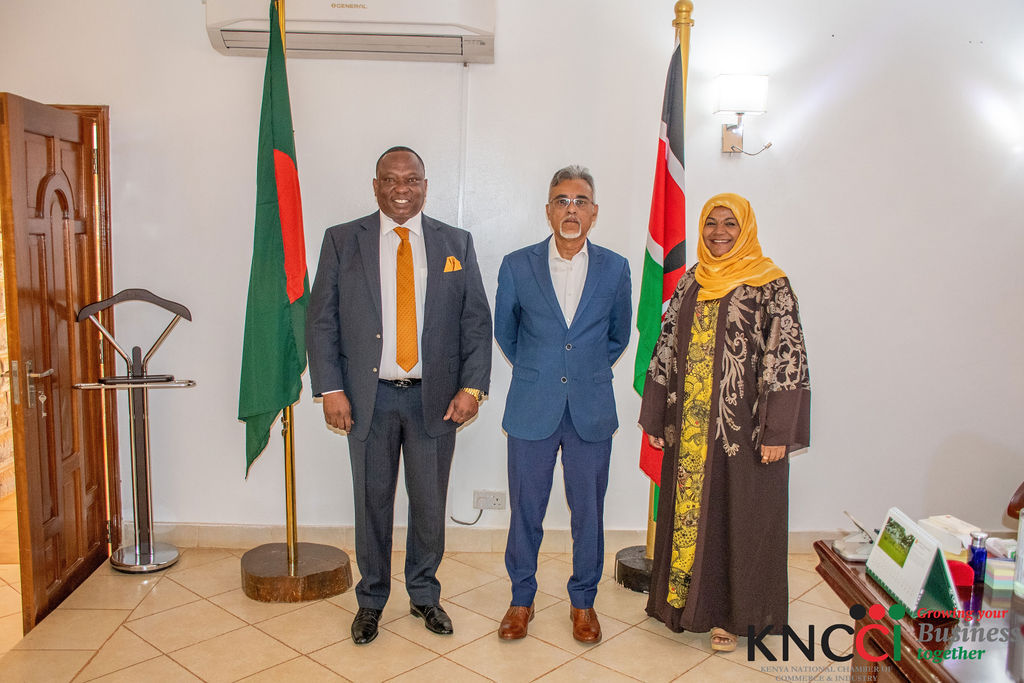 Earlier in the week, Ngatia led the KNCCI top brass in holding trade talks between Kenya and Bangladesh.
Accompanied by the KNCCI second Vice President Ms. Fatma Elmaawy, the chamber leaders were hosted by High Commissioner of Bangladesh H.E. Tareque Muhammad at the High commission of Bangladesh.
The purpose of the visit was to boost the existing trade relations between the two countries whose trade statistics indicate that for the past years, the exports of Kenya to Bangladesh have increased at an annualized rate of 21.3% from $ 31.3k in 1995 to 3.9m in 2020.
The trade gap can be achieved by improving on export capacity of horticultural products from Kenya to Bangladesh.
"Bangladesh is today one of the world's largest garment exporters, with the ready-made garment (RMG) sector accounting for 84 percent of Bangladesh's exports. This comes on the back of the sector's rapid growth and modernization over the past decade as well as the strides it has made in improving conditions for the country's approximately four million garment workers," Ngatia said.
The key sectors of collaboration between the two countries are; pharmaceuticals, textile, agriculture, education, ICT and blue economy.
KNCCI is keen to sign a Memorandum of Understanding with Bangladesh Chamber of Industries (BCI) to establish a working relationship to promote business in both countries by organizing industrial delegations, seminars, symposia, trade fairs, exhibitions and to receive any business delegation from both countries together with undertaking of research.
"We look forward to engaging the high commission in facilitating and coordinating the business community in trade development," Ngatia added.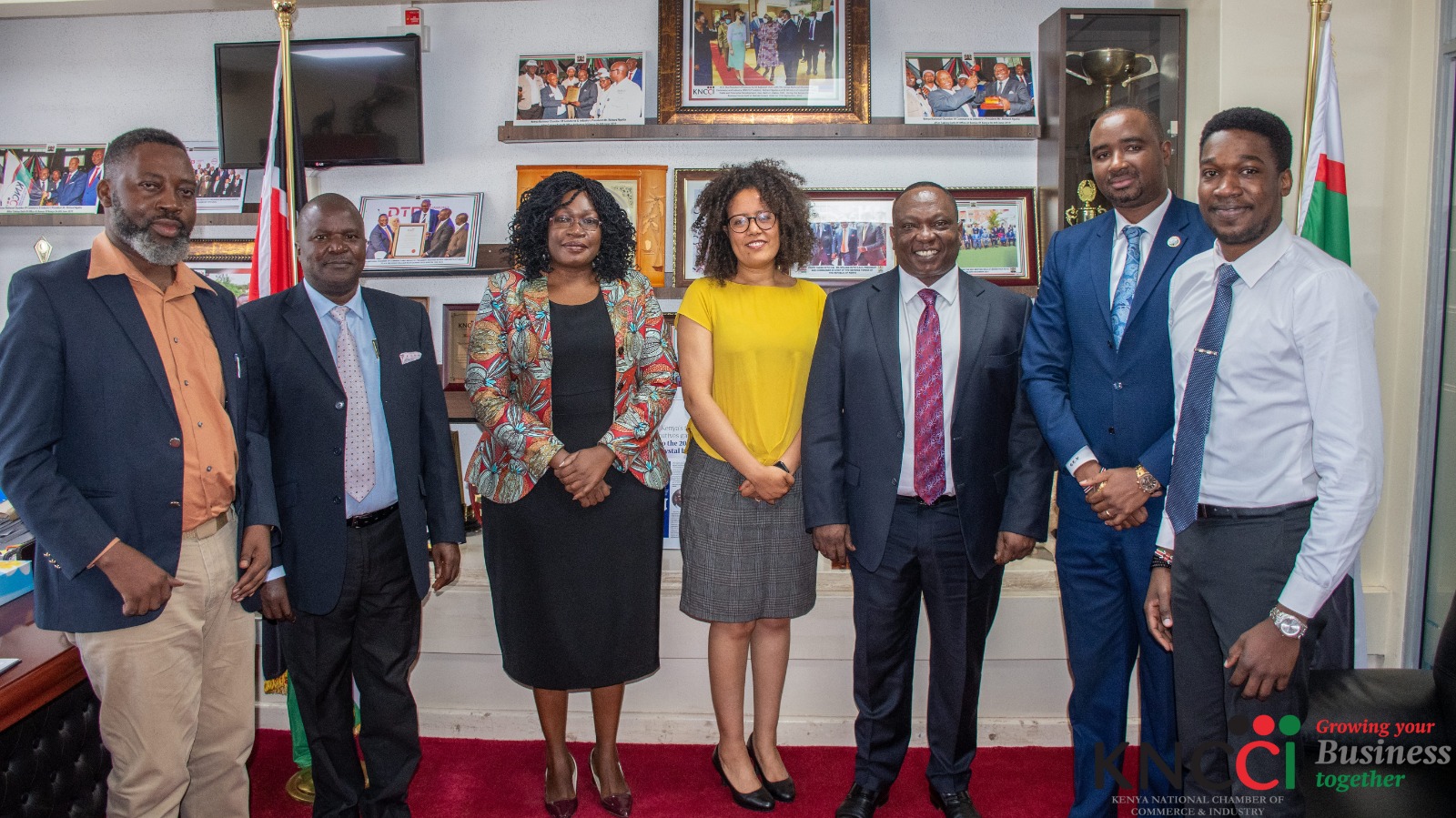 Meanwhile, Ngatia hosted a delegation comprising of leaders from the Asian- African Chamber of Commerce and Industry (AACCI) led by the President of its Kenya Chapter Ms. Selamawit Zemene Mwewosha.
The meeting between Ngatia and the AACCI was aimed at building sustainable cross-cultural collaborations for Africa.
The Asian- Africa Chamber of Commerce and Industry officially launched its Kenyan chapter in December 2022 with a vision to be recognised as an essential driving force for international business between Asian and African organizations.
KNCCI and AACCI will collaborate to support businesses especially start-ups through capacity building in terms of trainings and joint ventures.
Association of Southeast Asian Nations (ASEAN) is integrated with a market size of $2.3 trillion and 600 million people through regional economic.
The Chamber President assured them that KNCCI is ready to ensure a conducive business environment, build businesses capacity and strengthen economic diplomacy and grow the exports to ASEAN market. He also congratulated the AACCI-Kenyan Chapter for being vibrant since the launch.
To strengthen the business partnerships and opportunities between Kenya and ASEAN market, AACCI will organize an outgoing trade delegation to Malaysia in June 2023 and an incoming trade delegation to Kenya in July 2023.
AACCI advocates on behalf of the private sector of the Asian-African region for: Good corporate governance, public-private partnership in the development of projects and more particularly, regional projects covering more than one AACCI-member country, improvement of the business climate for the development of private investment, institutionalized public-private dialogue, involvement of the private sector in policy making decisions and AACCI is also active in capacity building for its members through the organization of seminars, workshops and offers various platforms for members to exchange ideas and share experiences.
---
---