Kenya Pro-Boxing boss appointed Commonwealth Governor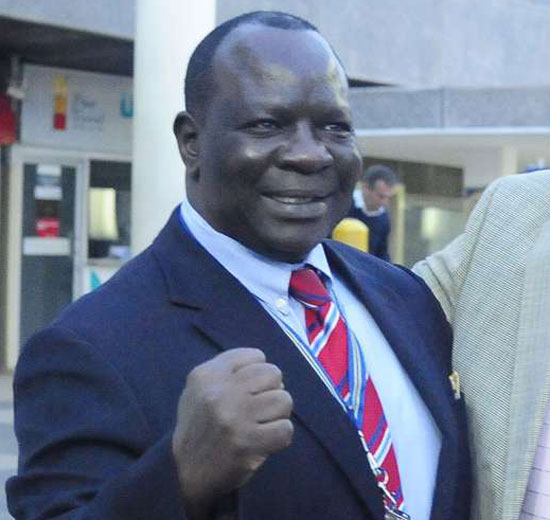 Kenya Professional Boxing Commission (KPBC) president Reuben Ndolo has been appointed by the World Alliance Boxing Association (WABA) as the new Governor for Commonwealth and Indo-Oceania countries.
Ndolo, who is also a former Member of the Kenya Parliament for Makadara constituency as well as President of the Commonwealth Boxing Council (CBC), will now have the power, as Governor, to administer the British Commonwealth and Indo-Oceania boxing titles.
Accepting the new role of Governor, Ndolo said; "This is a big honour to Kenya and Africa as a whole. I will do everything possible to change the lives of our boxers because they are the people we are working for," Ndolo said.
He rallied all stakeholders in the sport within the Commonwealth and Indo-Oceania countries to come together and work to better professional boxing and benefit the boxers.
"I call on all of us to put the interest of the boxers first. Without boxers there is no boxing and therefore it is my call upon Africa boxing leaders to put aside their selfish interests and avoid fighting for attention on what you are doing for the benefit of the boxers. Once you succeed we'll all see what you are doing," he added.
A proven performer, Ndolo is credited with propelling the African countries interests in CBC. His spell at the helm of Commonwealth Boxing Council (CBC) in 2000 was the great opportunity for Africa to showcase its boxing prowess.
He was the first CBC Director to bring the council's Annual General Meeting (AGM) outside the United Kingdom (UK) to Africa starting in Nairobi in 2001 and then to Accra, Ghana 2004 leaving a great legacy at the CBC as the President.
That feat has never been matched by any other CBC President before and after Ndolo. Call it luck, but the swift, cunning and street-smart survivor is the luckiest person that African boxing prides in having. He has also been viewed as the proverbial cat with nine lives.
During his tenure as the President of CBC, African boxing enjoyed unprecedented grants of equipment, expertise and flurries of boxing stars and celebrities from the Western World.
As a promoter, Ndolo remains perched among the best in the business in Kenya having promoted top fights including the Commonwealth title fight between Kenya's Napunyi Oduori and Ghana's Oblittey Commey.
It was during this time that the IBF Light Heavyweight Champion of the world Roy Jones Jr landed in Nairobi with a plane full of boxing equipment and other boxing goodies.
African boxers like Sara Achieng and others got ample opportunity to fight for several CBC championship belts which enabled them to gain international recognition as well as fame and money. Ndolo as well assisted some Kenyan professional boxers George "Kidi" Adipo, Moses Kinyua and David Kiilu move to South Africa.
---
---