Sakaja Super Cup sub county semis set or midweek as tourney inches closer to final stages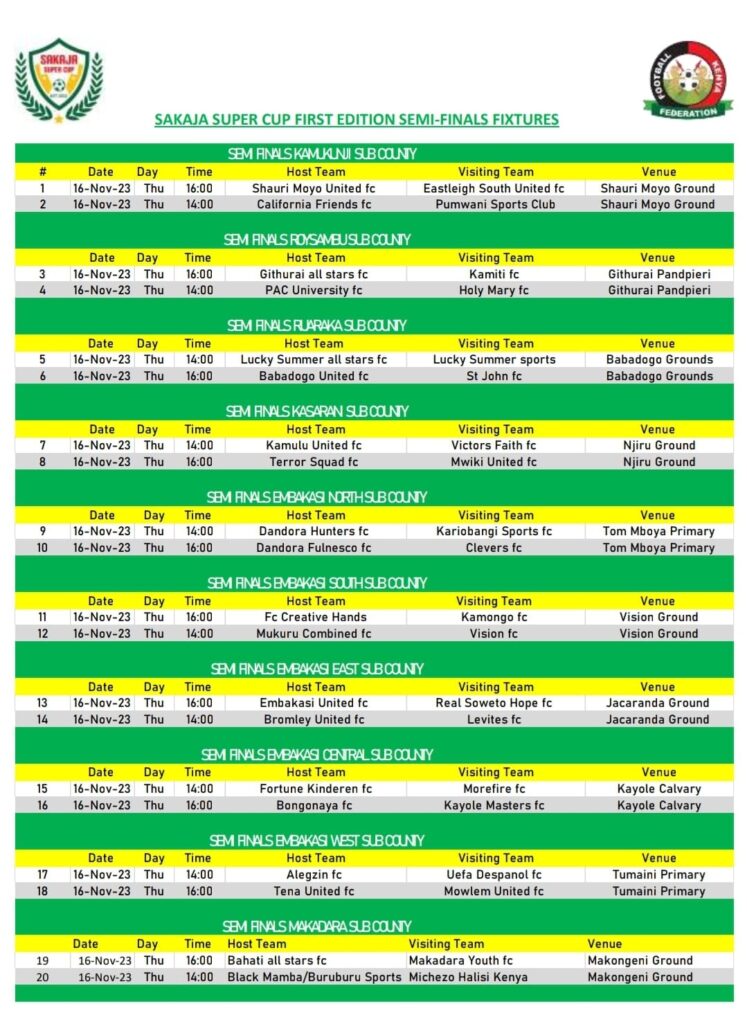 The Sub County Semi Finals of the inaugural Sakaja Super Cup Football tournament are set to be played on Thursday 16th November with a total of 20 matches on that cards from 2:00PM and 4:00PM as the tournament inches closer to conclusion.
The tournament quarterfinals were played over the last weekend spilling over to Monday as the best of the best put their foot forward for a chance to advance to the semis in their respective subcounties.
In the Dagoretti North Sub County quarter finals, Siesta FC scraped through on with a 8-7 victory over Kilimani FC after the teams had settled to a 1-1 draw in regulation time. Classic outclassed Kile Soccer claiming a 3-0 victory as FIFA Best defeated Maranatha 4-3 in a seven goal thriller while Escalators beat Kabiro Youth 3-0 in the last quarter final of the sub County.
Away in Kibra Sub County, Sitambili put a solitary goal past their opponents Kibera Golden as Kibera Arts beat Shofco Fc with a similar margin. Makina All-stars defeated InterBase Fc by two goals to nil while in Dagoretti South, Riruta 105 FC produced a three star performance beating Mutuini Rangers FC 3-0 after a brace from Riruta's number nine Geofrey Erambo in the 32nd and 79th minutes and one from winger Ikutwa Ford who found the back of the net in the 73rd minute.
Dagoretti Santos and Home In Home settled to a barren draw forcing the match to penalty kicks which Home in Home won 5-4. At the NCC grounds, B13 made it to the semi-finals after defeating 4-3 in post-match penalties following a goal less draw. In another match at Calvary Grounds, Morefire dumped out legends with a 3- 0 drubbing courtesy of Omondi Jargso's hat trick in the 2nd, 8th and 51st minutes
In Embakasi South Sub County, Real Warriors and Kamongo played out a goal less draw with the away team winning the penalty shootout 5-4. In another match played at Vision grounds, Alfan Muthoka was on the scoresheet as Mukuru Combined defeated Reuben United by a solitary goal.
In Embakasi North, it was a tough home ground rivalry as Dandora United and Dandora Hunters forced a one all draw heading into spot kicks which the Dandora Hunters carried the day with a 4-3 scoreline. Their other neighbor Dandora Maono lost by two goals to Kariobangi Sports. KARIOBANGI STARS 0-3 Dandora Fullnesco thumped Kariobangi 3-0 as Kariobangi FC bowed out after a 1-1 draw forced them to penalties won by their rivals Clever FC in a 5-4 scoreline.
Other matches played in Embakasi East saw Levites fc defeat Team Unfit by a solitary goal courtesy of George Mbadi who struck in the 2nd minute of the match. Embakasi United won 4- 3 against Kin San FC on penalty shootouts while in Kamukunji sub county, California friends claimed an away 1-0 victory over Usacli FC courtesy of a lone goal from Beker Mikidaddy. Pumwani overpowered Eastleigh Youth by two goals to one.
in Roysambu sub-county Sakaja super cup quarter final matches, Kamiti fc and Roysambu FC settled to a 2-2 draw in a match which the Kamiti side won 5-4 on post-match penalties. PAC university overcame Githurai Youth 2-1 with goals from Chudier Guech (48 min) and Akok Deng (82 min) for the varsity boys. Paul Kimani had opened the goals spree for Githurai in the 2nd minute.
Embakasi central sub county saw yet another tough match ending in a draw as Kayole United and Bongonaya settle in a 1-1 draw before Bongonaya won 8-7 on penalties.
Makadara Sub County saw Michezo Halisi dump A1000 Sportiff FC out of competition with a 4-0 thumping with goals courtesy of Otieno Kennedy who struck in the 5 th and 37 th minutes and Fidel Otieno who also inked his name on the score sheet in the 15 th and 86 th minutes. Makadara youth defeated Jericho All stars 1 – 0 with a goal from Mureithi Michael in the 10 th minute.
In Embakasi West Alegzin FC defeated Hope Sportiff FC 1-0 courtesy of a 63rd minute from Kelvin Kimando as UEFA Despanol bundled Katatenje out with a 5-4 penalties victory after the match had ended 1-1 in regular time.
In Ruaraka Sub-County, St. John were the better side as they shoved off challenge from Mathare North Youth with two fine goals from Malama John and Otieno David as Lucky summer sports defeated Homeboyz 2-0 courtesy of Kennedy Odhiambo and Rikaard Lwa who scored a piece each.
Kihumbuini Grounds in Westlands Sub County saw Gullyside thump Deep Sea United 6-2 as. Karura Green Fc lost by two goals to nil at the hands of City Park Fc while Kipande Fc lost 2-3 to Leads United. In Embakasi South Sub County Vision FC won2-1 against Sun City while in Ruaraka Sub-County at Babadogo Grounds, Lucky Summer AllStars FC beta Babadogo Babes 2-1 with Javan Omondi and Frank Ochieng' scoring for the Lucky Summer side as Sanday Sammy pulled one back for Babadogo Babes.
Mathare subcounty saw Muoroto overcome Julias Burger 1-0 while in Embakasi East, Bromley won by a solitary goal over Santos Hotspur with a 90th minute penalty that was converted by Wiliam Omutanyi. Real Soweto Hope downed Embakasi All Stars by a goal to nil.
Babadogo united beat Mathare Flames by four goals with Nicholas Omondi, Duncan Chakali, Dennis Omollo all on the score sheet. At Njiru grounds, Victor's faith defeated Made in the Streets 2-1 as Mwiki United defeated Kamal FC by one goal.
---
---
Sakaja Super Cup sub county semis set or midweek as tourney inches closer to final stages
Write a comment below